Product Description
Aluminum honeycomb core is strongly laminated with multi-layers of aluminum foils by adhesive film, which are expanded into various sizes per customers' request. Its performance mainly depends on aluminum foils ( aluminum alloy grade 3003/ 5052 ), node adhesive and specification ( foil thickness & cell size ).
Aluminum honeycomb is highly desirable due to its incredibly high strength-to-weight ratio and is applicable wherever lightness and strength are required, such as office building, commercial center, aerospace, marine, defence, rail and automotive industries, etc. And is a new material of energy conservation, environmental protection and health.
Advantages of aluminum honeycomb panel
Energy saving, green material: good thermal and sound insulation & sound insulation, fire resistance;
High windload resistance: high strength & rigidness and stable structure of honeycomb core;
Easy installation & low labor cost: light weight;
Good decoration: excellent flatness & wide color selection.
Product Specification
Specification
overall thickness: 10 ~ 100 mm
width ≤ 2200 mm
length ≤ 6000 mm
Face Sheet
Materials: high grade aluminum alloy ( 3003, 5005, 5754, AA 1100 )
Thickness ≥ 1.0 mm ( curtain wall standard ) or ≥ 0.7 mm ( non-standard )
Core
Materials: high grade anti-corrosive aluminum honeycomb core
Aluminum foils' thickness: 6 mm
Bottom Sheet
Material: high grade aluminum alloy ( 3003, 5005, 5754 )
thickness ≥ 0.7 mm ( standard ) or ≥ 0.5 mm ( non-standard )
Binder
Two-component high-temperature curing polyurethane adhesive of fuller/ hot melt adhesive membrane.
Treatment
PVDF coating, roller coating, powder coating, anodized, wood grain
Color
RAL color or customized
Density
5.0 ~ 7.5 KG/ m2
Certificated
CE, SGS, ISO 9001:2000
Product Installation Structure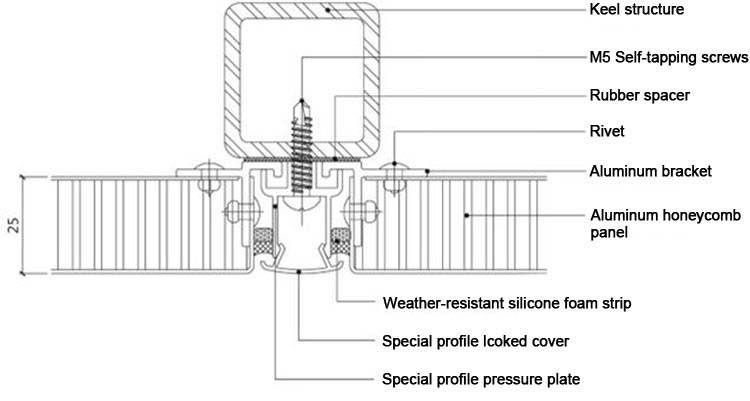 Aluminum Honeycomb Applications: