Product Description:
The  square- shaped  aluminum  ceiling  is  made  of  high  quality  aluminum  alloy,  the  use  of  advanced  materials  leveling and  compression  molding  process  to  ensure  that  the  finished  aluminum  panel  shape  stability,  flatness  and  dimensional  accuracy.
Through  the  panel  specifications,  installation  systems,  perforated  style  selection  and  sound-absorbing  cotton  material  on  the  back,  provide  customers  with  a  neat  appearance,  simple  and  full  of  change  ceiling  solutions.
Product Feature:
flame retardant, damp-proof, environmental protection
dry construction method with easy & speedy installation
easy maintenance & repair
superb acoustic absorption with perforated tiles
Product Specification
SPECIFICATION
THICKNESS
HEIGHT
300*300 mm
0.4 – 1.0 mm
19 mm ( short edge )

25 mm ( high edge )

300*450 mm
300*600 mm
300*1200 mm
400*400 mm
0.5 – 1.2 mm
500*500 mm
600*600 mm
600*1200 mm
 base materials
aluminum alloy, the grade of aluminum alloy can be selected according to the actual requirements. Besides, galvanized iron and stainless steel material is also available.
 surface treatment
powder coated ( ordinary powder, Polyester powder ), paint coated, film coated.
type of surface
plan plate or perforated plate is selected according to the actual requirements.
Product & Installation Structure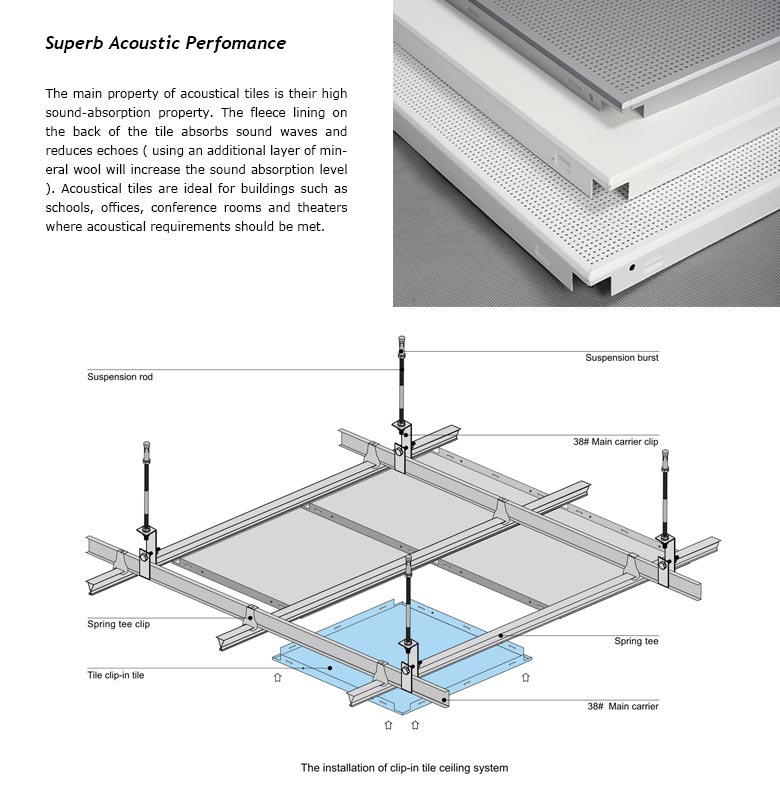 Project Case