Product Description:
It is widely used in the design of metal ceilings to reduce noise and create a comfortable space. The addition of sound insulation paper or sound insulation on the back of the perforated smallpox can help increase the total absorption capacity of the whole closed space and reduce the effect of noise. Each perforation from can provide different absorption open area ratio (punching rate), to achieve different degree of closed space absorption demand. There are many kinds of punch forms that are not recorded, and different types of punch patterns are available for customer selection.
Product Feature:
flame retardant, damp-proof, environmental protection
dry construction method with easy & speedy installation
easy maintenance & repair
superb acoustic absorption with perforated tiles
Product Specification
SPECIFICATION
THICKNESS
HEIGHT
300*300 mm
0.4 – 1.0 mm
19 mm ( short edge )

25 mm ( high edge )

300*450 mm
300*600 mm
300*1200 mm
400*400 mm
0.5 – 1.2 mm
500*500 mm
600*600 mm
600*1200 mm
 base materials
aluminum alloy, the grade of aluminum alloy can be selected according to the actual requirements. Besides, galvanized iron and stainless steel material is also available.
 surface treatment
powder coated ( ordinary powder, Polyester powder ), paint coated, film coated.
type of surface
plan plate or perforated plate is selected according to the actual requirements.
Product & Installation Structure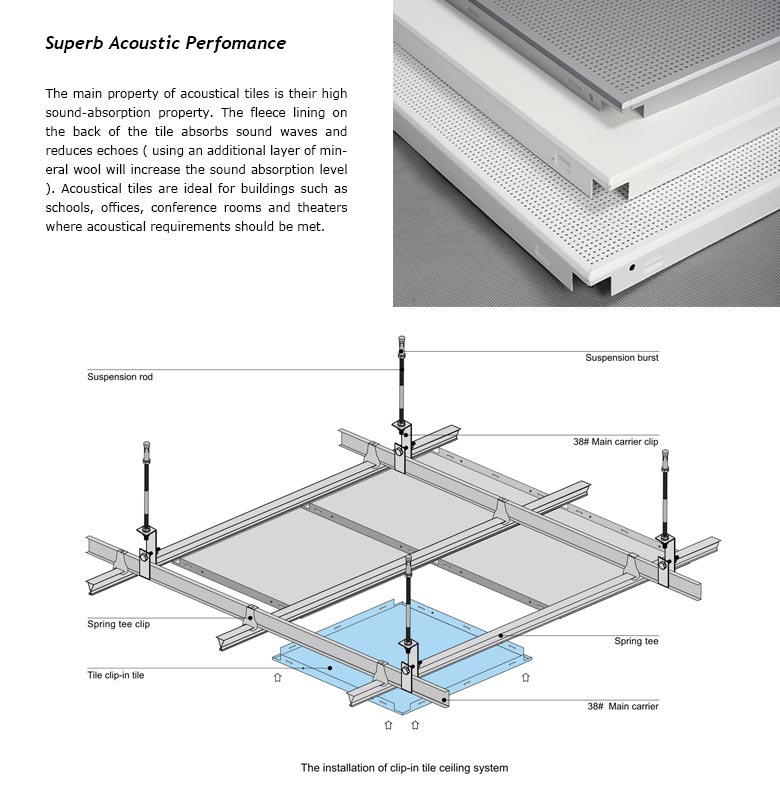 Project Case