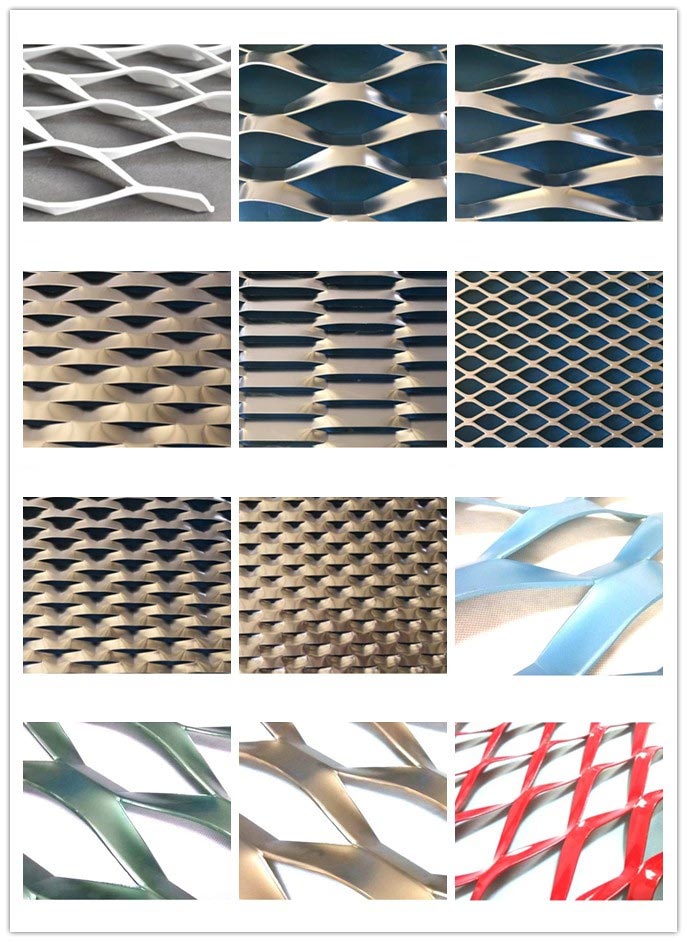 Product Description
Expanded metal mesh is formed from a single sheet that has been slit stretched to a wide array of diamond shaped openings. Expanded metal mesh offers saving in weight and metal, free passage of light, liquid, sound and air, while providing a decorative or ornamental effect. Expanded metal mesh is widely used in wall decoration, ceiling, karaoke sound barriers, outdoor metal curtain wall, small handicraft manufacture, pollution area protection, chemical plants, power plants, sewage treatment plants, etc.  Which spreads over hundreds of industries.
Product Features:
Cutting to shape is the only fabrication. Even when cut into irregular shapes and left unframed – the mesh does not fray.
Very efficient conductor.
The uncut knuckles support weight and withstand stress better than joints of welds.
Higher strength-to-weight ratio than the original sheet material.
Allow free passage to light, heat, sound and air.
Screening effect.
Makes an excellent reinforcement material.
Provides anti-slip surface.
The consistent diamond-pattern looks attractive.
Product Specification:
Product name
Expanded metal
Material
Stainless steel, thin low carbon steel, brass plate,

Aluminum plate, titanium plate, nickel plate, Al-Mg alloy plate.

Thickness
0.3-10.0 mm
Hole shape
Diamond, square hole, scale hole, gothic etc.
Mesh size
1220*2440 mm, 1200*2400 mm,1000*2000 mm or customized
Surface treatment

PVC coated
Powder coated
Anodized
Paint
Fluorocarbon spraying
Polishing

Application

Fence,panels & grids;
Walkways;
Protections & barres;
Industrials & fire stairs;
Metallic walls;
Metallic ceilings;
Grating & platforms;
Metallic furniture;
Balustrades;
Containers & fixtures;
Facade screening;
Concrete stoppers

Benefits

Continuity–the mesh is formed from a single piece of metal
Environment friendly–no wasteful of material
High strength–higher strength to weight ration then metal sheet
Adherence–anti slip surface
Very  good noise and fluid filtration–excludes & retains simultaneously
Good rigidity–premium reinforcement properties
Good conductivity–highly efficient conductor
Screening–practical and effective light filtration
Good resistance to corrosion

Package

On galvanized iron pallet and wooden case with waterproof cloth
On galvanized iron pallet with waterproof cloth
In wooden case with waterproof paper
In carton box
In roll with woven bag, the biggest width is 3000 mm
In bulk or In bundle

Certification
ISO 9001, ISO 14001, BV, SGS certificate
Expanded metal mesh structure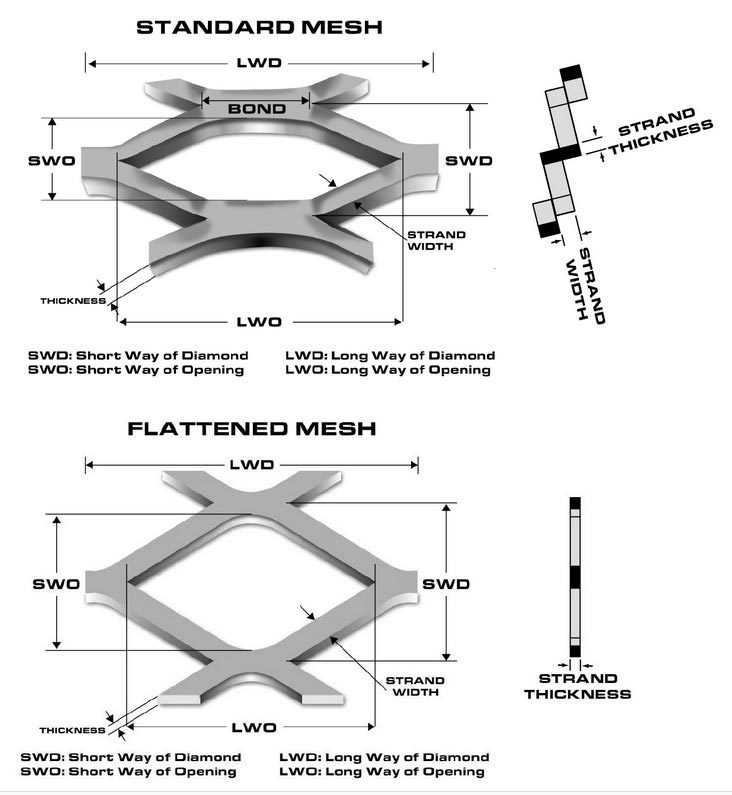 Expanded metal mesh applications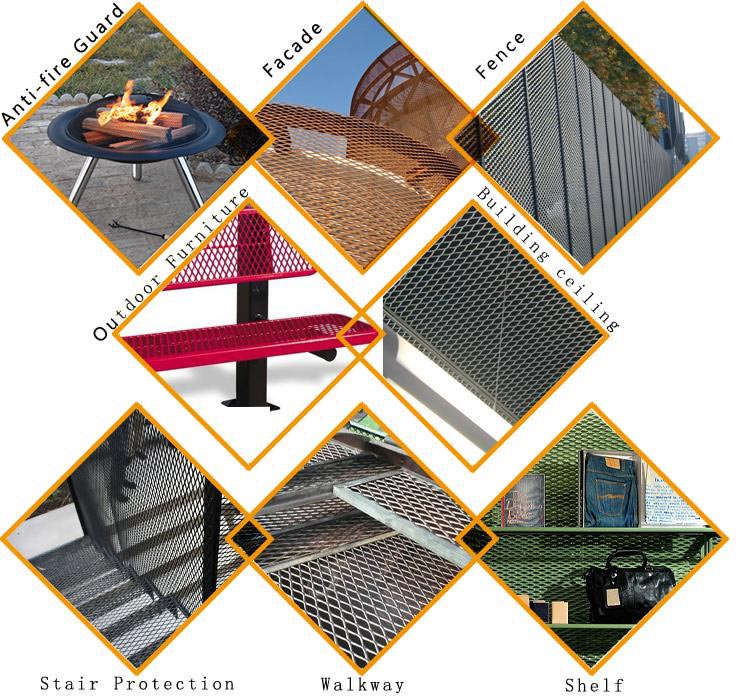 Expanded metal mesh curtain wall is well-suited for a variety of out of door ( such as office building, government agency, stadiums, airports, railway stations ). Metal curtain wall usually adopts 304 stainless steel or 316 stainless steel material, the mesh is in dense diamond with integrity. Which can be used for fifty years without rust in complex climate outside. Meanwhile, construction is convenient, simple maintenance. Look from the visual effect, the surface of curtain wall is bright, beautiful, smooth, unique shape, which can give people the enjoyment of the spirit.
Decorative aluminum metal mainly applies to all kinds of indoor use ( Such as workshop, hotel, waiting area, platform, large conference room ). When planar ceiling is installed, the works usually adopt aluminum alloy plate or aluminum metal with anti-corrosion white paint. The anti-dazzle stems have some features of light transmission, sound absorbing, beautiful surface, etc.
FAQ
How much about your annual production capacity?
What makes your products different from other company's?
BAHE provide free design service, warranty service, with strictly quality control and very competitive price.
Can you make custom panels if I have a design in mind?
Yes, most of our products for exporting were manufacture to specs.
Can I get a pcs of your products sample?
Yes, free samples will be provided anytime.
Do you offer a warranty on your products?
Yes, for PVDF coating product we can provide more than 10 years warranty time
What type of materials do you use for your products?
Carbon steel plate, Stainless steel plate, Aluminum and Aluminum Alloy plate, Cooper plate, Galvanized plate etc.
Special material also available
Do you have any certificate?
Yes, we have ISO 9001, ISO 14001, BV certificate, SGS certificate.
Do you have a separate quality departments?
Yes, we have QC department. Will make sure you receive the perfect product.
Is there quality control on all production lines?
Yes, all production line have adequate quality control
Do you have mutually agreed upon specifications with your suppliers?
Yes,we will make contract specify the specifications with the material suppliers.